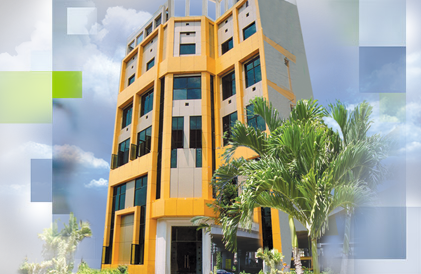 Born out of a concept by Mr. Bandara Dissanayake, Chairman and Managing Director of Sakya Education Group and renowned leading Economics and Business Studies Lecturer in Sri Lanka to provide internationally accredited programs at an affordable cost, Siksil Institute of Business and Technology (Pvt) Ltd – SIBT is a subsidiary company of SAKYA Educational Group which is the largest and the most popular higher education institute in Sri Lanka for secondary Education. SIBT was also incorporated as a BOI approved company in July 2001.
SIBT is a distinguished institute of recognition in the Sri Lankan IT and Management education arena offering internationally accredited courses at affordable prices which provides progression routes to many international degrees and professional programs since 2001. SIBT's current student body is over 15,000 and concentrating on quality teaching and facilities to provide its students, both school leavers and professionals, SIBT offer job oriented programs by updating the curriculum and thereby facilitating the students to face the ever changing demand in the industry experienced and qualified lecture panel comprising of university academics and professionals from the industry. SIBT not only provides knowledge, it improves employable skill of students emphasizing on producing well disciplined, all-round individuals.
SIBT started as a BOI approved training organization and is a registered institute of the Tertiary & Vocational Education Commission of Sri Lanka (TVEC). It is also an Authorized test centre for conducting ICDL (International Computer Driving License) Examination in Sri Lanka and has been accredited as a study centre for Sri Lanka Institute of Marketing (SLIM) and Institute of Certified Management Accountants of Sri Lanka (CMA). SIBT is also a Member of Association of Computer Training Organization of Sri Lanka (ACTOS) and an accredited delivery centre of Institute of Bankers of Sri Lanka (IBSL).
So far SIBT has offered diversified and internationally as well as nationally recognized job oriented courses in Management and IT. This has resulted in earning the reputation as a leading IT and Management training institute in Sri Lanka within a short period of time.
SIBT is also renowned for offering the latest Business Software Training courses and became the first institution in Sri Lanka to offer Computerized Human Resources Management courses.
Also SIBT has been awarded as the Best IT institute in Sri Lanka by the Sri Lanka Institute of Marketing.
SIBT is not only providing training programs to students, they organize various programs to improve the leadership skills, communication skills, other talents of the students. Also they annually organize a job Fair just after the study programs with the participation of leading organizations including all banks to give an opportunity to find a job to its students.